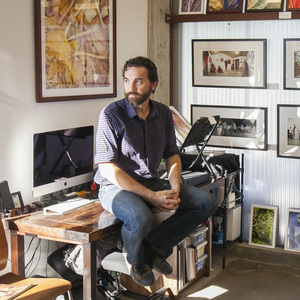 Scott David Gordon
Host of Austin Art Talk
Scott has been a photographer for 25 years and has enjoyed working with many artists and art galleries. He is an avid art collector who frequents gallery openings but also loves to search for missed art treasures at Goodwill, estate sales, and online. His curiosity about the Austin art scene and love of interviews and artists compelled him to create a platform to explore and share what he learns.
Here is a great recent interview of Scott on the JBG Organic Blog.
https://jbgorganic.com/blog/2017/09/employee-spotlight-scott-david-gordon-farm-photographer/
Scott David Gordon has hosted 99 Episodes.
October 28th, 2017 | 1 hr 1 min

austin, big medium, canopy austin, creative standard, east austin studio tour, generous art, shea little, texas biennial

The executive director of Big Medium shares how that organization got started, it's mission, in addition to the history of the East Austin Studio Tour, WEST, and the Texas Biennial. We also talk about his beginnings in art and a new project that could standardize through collaboration some essential resources for artists and their businesses.

October 21st, 2017 | 58 mins

art gallery, art tours, camiba, collecting art, selling art, troy campa

Such a delightful and informative conversation with Troy Campa of CAMIBAart Gallery, located in the Flatbed Building. From architecture to art gallery, we talk about Troy's career shift from being an architect to selling art full time for three years and all that he has learned.

October 14th, 2017 | 1 hr 13 mins

art, austin history, digital, editioning, photo gallery, pricing, selling photography, stephen clark

A wide ranging conversation with gallery owner and Austin historian Stephen L Clark about how he got started, the many people he has met along the way, selling art, and what it has been like to run a photography gallery in Austin for almost 25 years.