Manik Raj Nakra - An Ancient Art
Episode 99
·
April 8th, 2021
·
1 hr 18 mins
"Out of the million brush strokes on this painting, I like his brushstroke. So it was worth the 20 hours I spent on it to learn this one stroke. Then I would take that stroke into the next piece. Then that piece didn't feel right but there was a second brush stroke also that I liked. And then eventually I got to the point where I liked all the brush strokes on the canvas. That's when I'm like OK, now I can start making art."
Manik Raj Nakra is an Austin Based Artist who creates colorful and mythic-looking artworks influenced by his extensive research of cultures, ancient art, and architecture from all over the world. All that he absorbs through books, travel, and online research gets melded and transformed into his own unique but somehow universal visual language.
I'm impressed with Manik's boldness and commitment to his art practice and willingness to spend years out of view to refine his subject matter, experiment, and learn and improve his creative techniques, taking the quality of what he is producing to the next level, and then back into the world. Please enjoy this interesting and often humorous conversation with Manik and be sure to check out his Big Medium exhibition this month.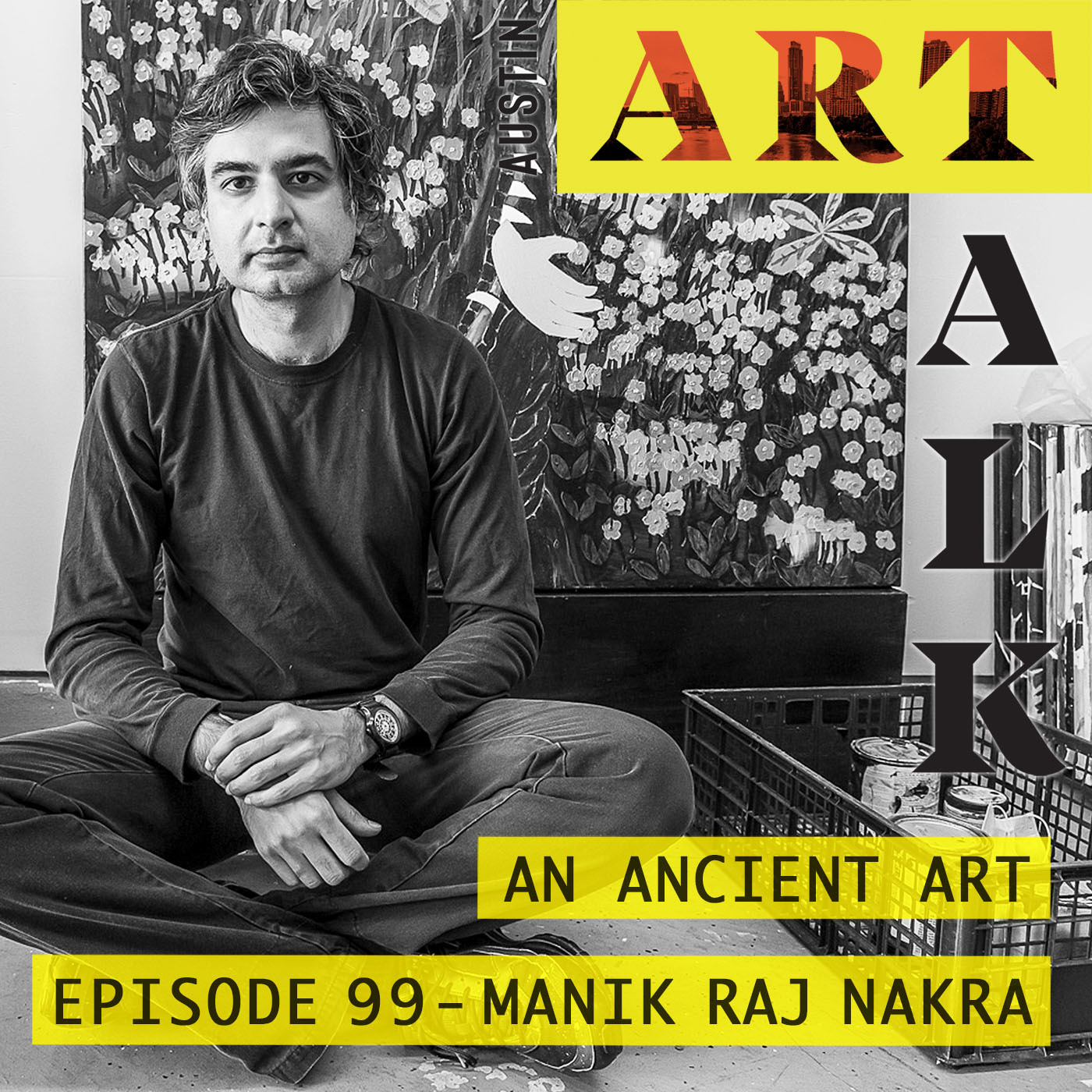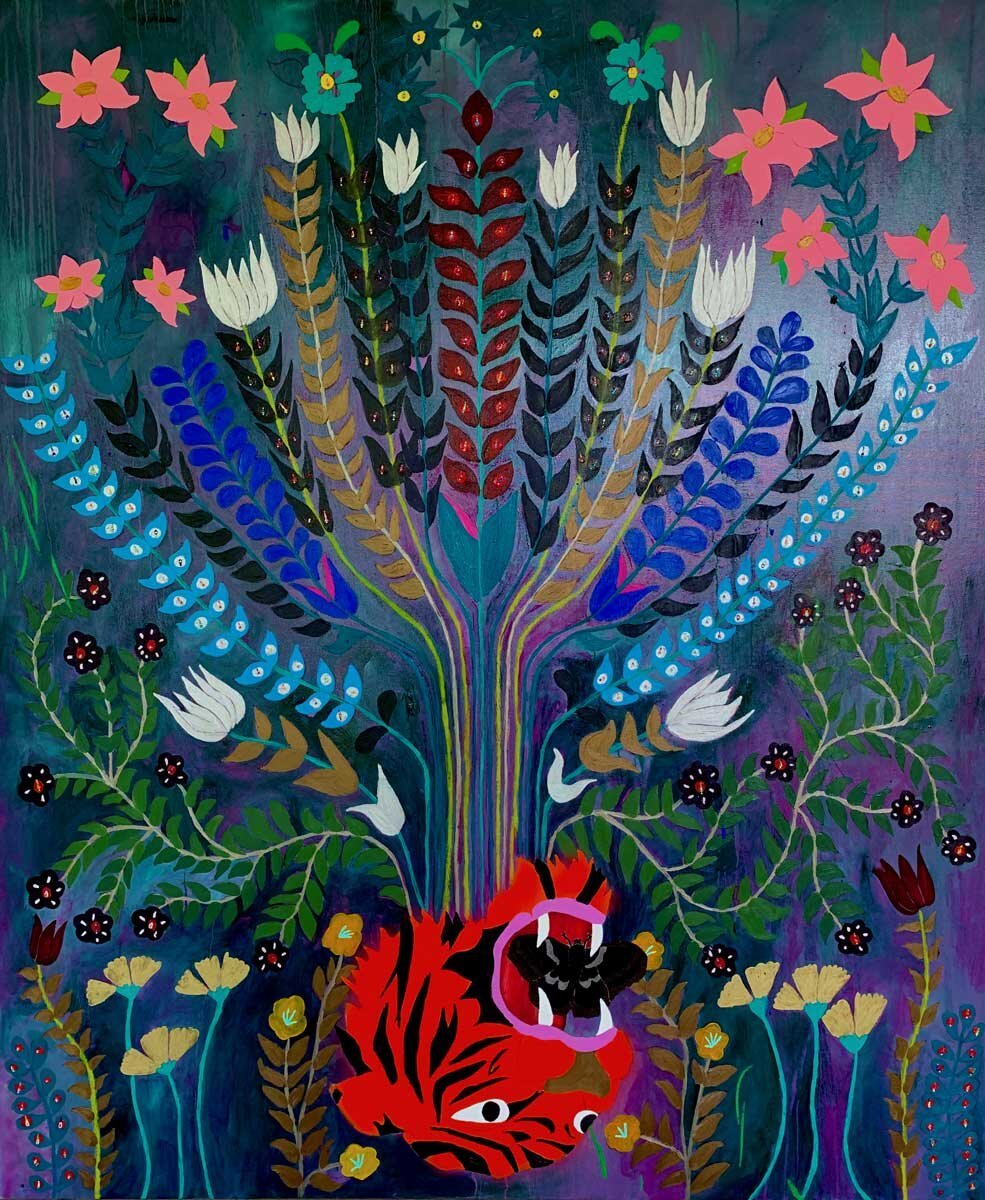 MOTH, 2020, Oil paint, acrylic paint, spray paint, ceremonial bindis on canvas and wood, 96 x 67 in.


Manik Raj Nakra
WILDLIFE
March 13 – May 1, 2021
Big Medium
916 Springdale Rd, Bldg 2, #101
Austin, Texas 78702
512.939.6665
info@bigmedium.org
Appointment hours: Thursday – Saturday, 12 – 6pm
To allow for social distancing, appointments will be scheduled every 30 minutes, with a maximum of 10 guests at a time. Scroll down to schedule an appointment with at least 24 hours advance notice. Masks are required at all times.
Text courtesy of the BIg Medium Website
"Inspired by stories of nature regenerating and reclaiming space during the Covid19 pandemic, W I L D L I F E examines what happens when humanity removes itself from the natural world. The exhibition also introduces a new material for the artist—the ceremonial bindi, worn for centuries on the forehead in Indian culture for spiritual, traditional, and fashion reasons. It can be seen as a third eye creating an opening to infinity or as a symbol of femininity. For the natural world depicted in the paintings, the renewed and rejuvenated flora and fauna are anthropomorphized with hundreds of bindis as wildlife reincarnated with third eyes. The twinkling of the jeweled bindis carry remnants of memory. The severed animal heads from which the new nature grows are depicted upside down to represent self-sabotage and the mistakes of the past.
Influenced by the architecture of ancient forts and palaces of Indian Mughals, Iran, Oman, and Pakistan, the paintings are installed in window frames handmade by the artist. The pieces look out onto a world from isolation with new wonder, new honesty, and new beauty. At first, the viewer encounters these windows from the "inside looking out" but with bindis all over functioning as eyes, they equally become the "outside looking in" giving the paintings an existential feel to reflect on these uncertain times and space.
Manik Raj Nakra's work has been included in numerous solo and group exhibitions throughout Texas and San Francisco, a member of the 2019 Crit Group program with The Contemporary in Austin, TX, The LINE Residency with Big Medium in 2020, and a client list that includes Converse, The Oxford American, The LINE Hotel, Facebook, Urban Outfitters, amongst others."


This interview has been edited and condensed for clarity.
Intro music generously provided by Stan Killian