Dave McClinton
Episode 73
·
October 22nd, 2019
·
1 hr 16 mins
"The things that I think people don't understand or misunderstand about me is that sometimes when I'm hanging out with friends or hanging out with piers, I can't help but make a joke or a comment about race. Because it is literally always there. It's just always there. It's an odd thing to constantly have that in your face all of the time. It's heavy. I think it's why black men die sooner than everyone else. That psychological weight is always there. And sometimes I wish I could explain to my friends what that's like. I wish there was a way to convey to people, and maybe that's what I am trying to do with the art, what that constant pressure feels like, because it is literally constant"


Dave McClinton is an artist and graphic designer who after doing design work for decades decided to funnel his life experiences, ideas, and emotions into often provocative, graphically intricate, and colorfully rendered, digitally collaged portraits and landscapes. The artworks aim to tell stories, start hard conversations, and to help visually define current and historical black identity and inner life.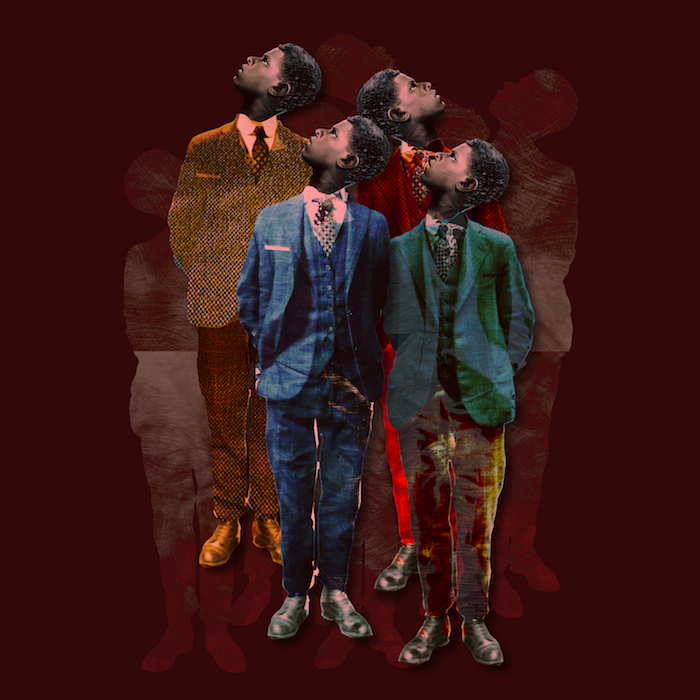 Lo and Behold IV


Statement's courtesty of Dave's website.
ARTIST STATEMENT | as it pertains to the culturally based imagery.
In the African American community, we are slowly rediscovering our history that has not been fully illustrated. It's my job as visual communicator to review historical information and inform the community by bringing these concepts to life and help visually define our identity. And to distribute these stories about the strengths and trials of the African American community.
I want to illustrate the life-cycle of the inner life of a black person. From innocent to informed. From recklessly defiant to determined. How the weight of American history can either crush you or harden you. And, how either result often has to be hidden from view just to get through the day. The anger of the African-American community is often portrayed as a threat. The anger of "traditional' communities is depicted as righteous. This paradigm feeds stress and despair back into black lives and thus stokes the fires we try to simultaneously hide and harness.
Currently, there is a newly intensified wave of empathetic consciousness in all forms of artistic output. I want the community to seize this moment in history to create work that tells a story and compels them to seek out empathy and activism for the sake of others. My hope is the work I'm creating can help do that. I want to spark conversations that have, historically, been hard to start.
ARTIST STATEMENT | Concerning the landscapes.
I create free standing crumpled paper still lifes, then photograph them and manipulate the images until I've created something that straddles reality and fantasy. I want to show you something familiar and then alter your perspective. These shapes and "views" are familiar but I want to you conjure up places you have been and seen. Not simply reproduce a vista for it's own sake.
I combine my love of photography, art and graphic design to create works that speak to the viewer by communicating something specific and obvious but also harboring subtexts that require repeated viewing or discussion. My work as a graphic designer has been to communicate quickly and efficiently through logo and branding work. That economy of message can be applied to art.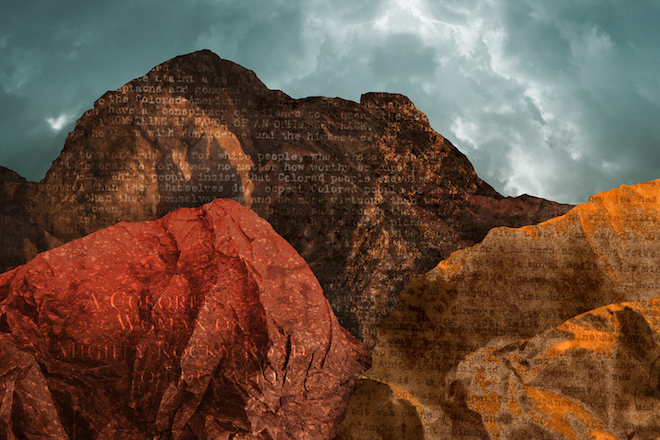 Resurgence


Current and upcomming
Laura Caffrey and Dave McClinton:
CARRY THE REMAINDER
October 11 - November 17, 2019
Atleier 1205
1205 E Cesar Chavez St.,
Austin, TX 78702
Gallery hours: 11am-6pm, Thursdays and Fridays, by appointment on other days and evenings
Meet the artists during the first weekend of East Austin Studio Tour: 11am-6pm, Saturday and Sunday, November 16-17








2019 Texas Book Festival Weekend
Saturday, October 26th 10:00AM – 5:00PM
Sunday, October 27th 11:00AM – 5:00PM
Saturday - 2:30 PM - 3:15 PM
Meet 2019 Texas Book Festival Poster Artist Dave McClinton
The Contemporary Austin-Jones Center (700 Congress Avenue)
Meet the official 2019 Texas Book Festival Poster artist, Dave McClinton, as he shares his work, including the dramatic image for this year's poster, Burgeoning, a mixed-media digital collage made from crumpled paper, photographed and rendered as a mountain landscape. The idea for McClinton's crumpled paper series was sparked when he noticed the discarded gift wrapping on his kitchen table looked like a miniature mountain sculpture.


Some of the subjects we discuss:
Questions/reactions
Experiences/stereotypes
New conversations
The mission
Cultural work
Code switching
Textures/bodies
Facial elements/features
Eye contact/defiant
Generational trauma
Conflicting messages
Addiction/genetics
Using historical texts
Replacing the nouns
The word "likely"
Graphic design
Rewriting texts
The Landscapes
Crumpled paper
Scars on the land
Vietnam Memorial
People as resources
Other Art Fair
Crowd reactions
Tough conversations
Bulletproof explanations
Defending the work
Who gets the work
Woman at WEST
Suit and noose
Talking point piece
Studying art in school
Influential teachers
Printing fascination
All the names
Starting to make art
Using the skill set
Story importance
Evolution of work
Showing emotions
Sense of injustice
Dealing with life
Using humor
Pride/embarrassment
Me too/All men
Righteousness
Thomas Jefferson
3/5ths of a person
The 1619 Project
Texas Book Festival
DJ Stout/Pentagram
Atelier 1205 Landscapes
Get out there/friends
Davis Gallery show
New plexi work
Branding/logo work
Creative freedom


This interview has been edited and condensed for clarity.
Intro music generously provided by Stan Killian