Fort Lonesome - Kathie Sever
Episode 72
·
October 11th, 2019
·
1 hr 9 mins
"At this point what makes me the most excited about the business, is trying to figure out how to build something that can be a sustainable platform for a number of different artists. It's so hard to make a living in Austin as an artist or musician. Being able to bring people in and have us all working together on this thing has felt incredibly satisfying. To be able to stand back and watch these items being made by these people who I care so much about. I'm so proud of them and am excited to see where it will go because I am so inspired by them and all of their hard work."


Kathie Sever founded her company Fort Lonesome almost 20 years ago, which creates custom chain stitch embroidered western wear for local Austinites as well as musicians and celebrities flaunting their elaborate wears all over the world. In the interview we talk about her artistic origins and upbringing, her time living on a ranch in Montana, how she ended up finding and learning chain stitch embroidery and what that is, the many challenges she's faced both professionally and personally growing the business, her awesome team of employees, and how she never really gets to meet the celebrities they work with and she's OK with that. I love how candid Kathie is about the struggles she has had growing her business and how inspired she is by the people she works with everyday.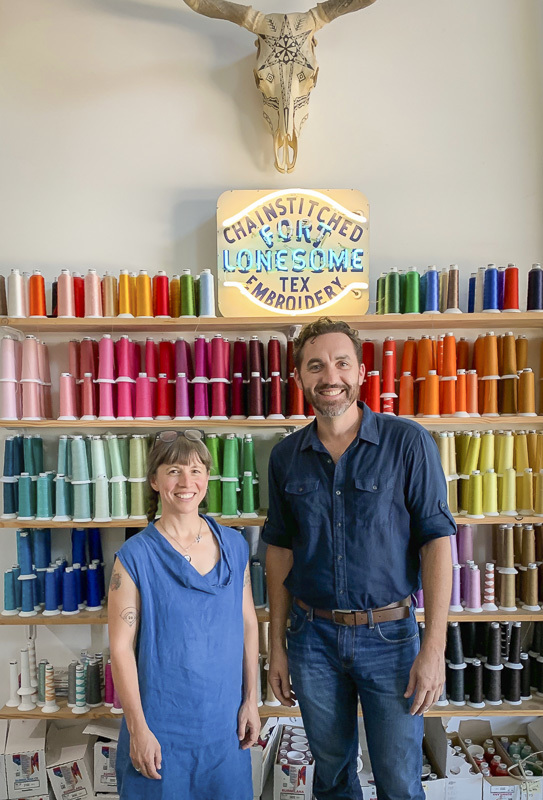 Kathie and I at the Fort Lonesome shop in East Austin.


Text courtesy of the Fort Lonesome website.
About
Fort Lonesome is a design-forward custom western wear and chain-stitch embroidery studio based in Austin, TX. We work collaboratively with our clients to create works that capture the stories of their wearers, in an effort to create pieces that slowly and carefully consider the symbiosis of art, narrative, and technician-ship. Our process is led by considerations of necessity and sustainability, and our designs are inspired by the natural world and its visible and invisible energies.
Story
Company founder Kathie Sever began working in western wear in 2000. She found herself spending a fair amount of time returning to her attempts to rebuild and make functional a hundred-year-old chainstitch embroidery machine she'd purchased. These machines have a legacy of connectedness with much of western wear's most famous tailors. At that time, information about or mentors in the use of these machines was near to nil, so the learning curve was long and slow. But after many years of tinkering and communicating with some far-away fellow comrades, the gifts these machines, and their ability to confer the energy and individualism of their operators, resulted in the birth of Fort Lonesome in the fall of 2012.
In the coming months and years the team at Fort Lonesome grew to include first Dana Falconberry, then soon after, Christina Hurt Smith and Amrit Khalsa, each of whom brought to the table strong backgrounds in diverse art and design, and whose collaborative approach to working together grew into a shared aesthetic and style.
Since then the company has continued to evolve and grow, but slowly and always with the intention of pushing the boundaries of this long lost art form.


Some of the subjects we discuss:
Intro
Having a platform
The spotlight/feedback
Having employees
Sacrifices/skills
You have to go through it
Finding your way
Staying connected
Building a business
Multiple voices
Unseen aspects
Ego/being a leader
Who am I without this
Self growth/help
Growing up in Cali
Parents and the outdoors
Dad's photography career
Mom's sewing influence
Studying art in school
Painting/teaching?
Montana experience
Western wear
Being in to clothes
Austin/marriage/children
Starting to sew
Childrens clothing line
Business got too big
Learning chain stitch
Re-brand/Ryan Rhodes
CSE vintage machines
How chain stitch works
Everyone on the team
Help with the business
Growth vs' reacting
Next phase/Saying No
Valuing the work
Feeling deserving
Sustainability
Dealing with celebrities
Putting creativity to work
Love of the team
Getting back to making


This interview has been edited and condensed for clarity.
Intro music generously provided by Stan Killian