Women & Their Work - Chris Cowden
Episode 69
·
September 10th, 2019
·
1 hr 1 min
"I think artists are extremely inspirational people. You need a lot of mental discipline to continue to affirm the role of creativity and your voice in the conversation. That's why I think artists are so important because it's just a really important point of view and perception in this cacophony that we hear. Especially now it's really good to bend your ear towards maybe more nuanced, more complicated, more complex murmurings and conversations about issues that artists are giving us."


Chris Cowden is the executive director of Women & Their Work, which for over 40 years has pioneered elevating and exhibiting the work of women artists from all over Texas. They have presented over 1900 artists in all disciplines (dance, theater, music, film and visual art) since they started, and have produced over 130 color catalogs with commissioned essays about the artists they have shown. They have programs to educate the public and especially children about art, through various commissioned performances and many other exhibitions and events. They also provide fiscal sponsorship and technical support to artists in creating their work.
Chris has to be one of the biggest champions of artists I have spoken with. She is really passionate about her job and getting people to experience, understand, and collect art. I love this conversation. I had been so curious to learn more about Women & Their Work and about Chris and her job and this interview does not disappoint.


Text courtesy of the Women & Their Work website.
Women & Their Work is a visual and performing arts organization located in Central Austin that serves as a catalyst for contemporary art created by women living and working in Texas and beyond. For 40 years, Women & Their Work has brought groundbreaking art to Austin, with exhibitions, performances, and educational workshops.
Known for its pioneering spirit, embrace of artistic innovation, and commitment to Texas audiences and artists, Women & Their Work's goal is to enrich the cultural experience for Texans by:
Emphasizing the value and excellence of art by women
Educating audiences of all ages about contemporary art
Equipping artists with financial and technical support
Engaging the community through diverse exhibitions, performances and other programs
Admission to the gallery is free. Donations are appreciated.
Gallery hours are Monday through Friday 10am to 6pm
Saturday Noon to 6pm.
1710 Lavaca Street
Austin, TX 78701
512-477-1064
General Inquires
info@womenandtheirwork.org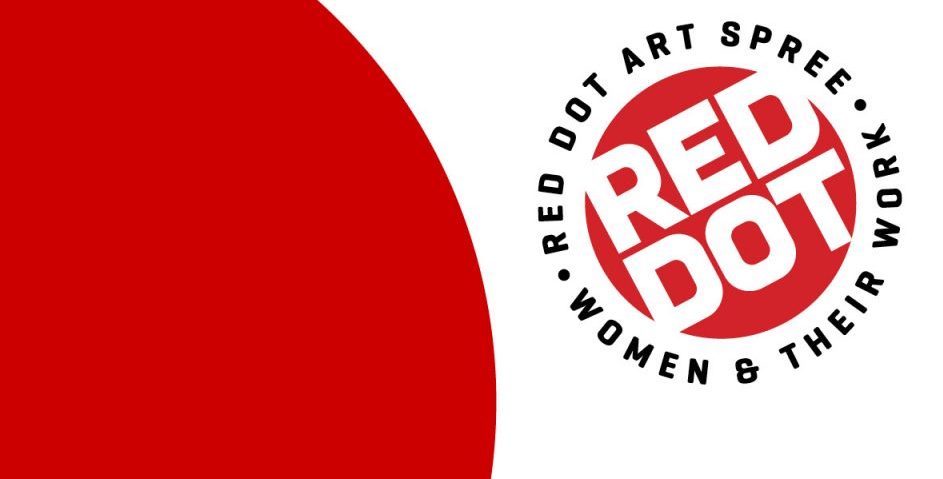 Red Dot Art Spree 2019
Opening - Thu Sep 12, 2019 7:00pm – 10:00pm
VIP Pre-Spree
6:00pm – 7:00pm
Looking for tickets to the party on opening night? Click here.
Exhibition - Fri Sep 13, 2019 - Sun Sep 22, 2019
For art lovers in Austin, Women & Their Work's Red Dot Art Spree means red-hot buys on original works of art at $750 or less and a paint-the-town-red night. Join us on Thursday, September 12th from 7- 10 pm. This year's event will feature over 150 works by some of the best contemporary artists in Texas. Paintings, sculptures, drawings, photographs, prints and mixed media works will be priced $750 and below, and all shopping that night will be tax-free.
A silent auction will offer items and services ranging from art-inspired travel getaways to gift certificates from some of Austin's most sought-after establishments. There will be fabulous fare and cocktails making this the perfect occasion for artists, collectors, and creatives to come together for a night of artistic celebration!


Some of the subjects we discuss:
Chris's job
Art in the US
Experiencing art
W&TW beginnings
The name/evolution
Women in the arts
Inclusivity/being seen
Different facets
Visual art exhibitions
Performance commissions
Education Program
Kids at the gallery
Fiscal sponsoring
Different events
Austin museums
Being an art center
Art collectors
High profile grants
Thirst on town lake
Sources of funds
Sale-ability of art
Richard Serra
Living with the art
Exposure to art
How it speaks to you
What it means/rules
Shana Hoehn's work
Ballet in NYC
Keeps you curious
Imposter syndrome
Working with artists
Banking/other careers
New show every 6 weeks
Social media immediacy
Looking forward
How to support


This interview has been edited and condensed for clarity.
Intro music generously provided by Stan Killian