Jan Heaton - Love, Gratitude & Family
Episode 68
·
September 2nd, 2019
·
1 hr 19 mins
"I'm always trying to be tranquil. I've experienced a lot of sadness and crisis and trauma in the last 10 years. I think there is a part of me that could have gone that direction and you would have been able to see it in my work. I have done some small pieces where they do look angry. But as far as the larger pieces, I would always feel like if I was working on something that gave that message that it didn't really calm me. It didn't really work for me as art therapy which is at the time what I wanted it to do. I wanted it to be able to take me to a quiet place. A thoughtful place. I wanted it to be about love and community, not anger or separation."


Watercolor artist and teacher Jan Heaton is this weeks guest. We met seven years ago when I was working on a photo project capturing artists in their spaces. That experience enhanced my desire to spend more time with creative people and explore their lives and work. Our conversation covers her creative childhood and her art and teaching career through until present day, which is typical of my interviews. But the main impetus for this episode is to share her late daughter Kristin's story and the upcoming Davis Gallery group exhibition and fundraiser that celebrates her life.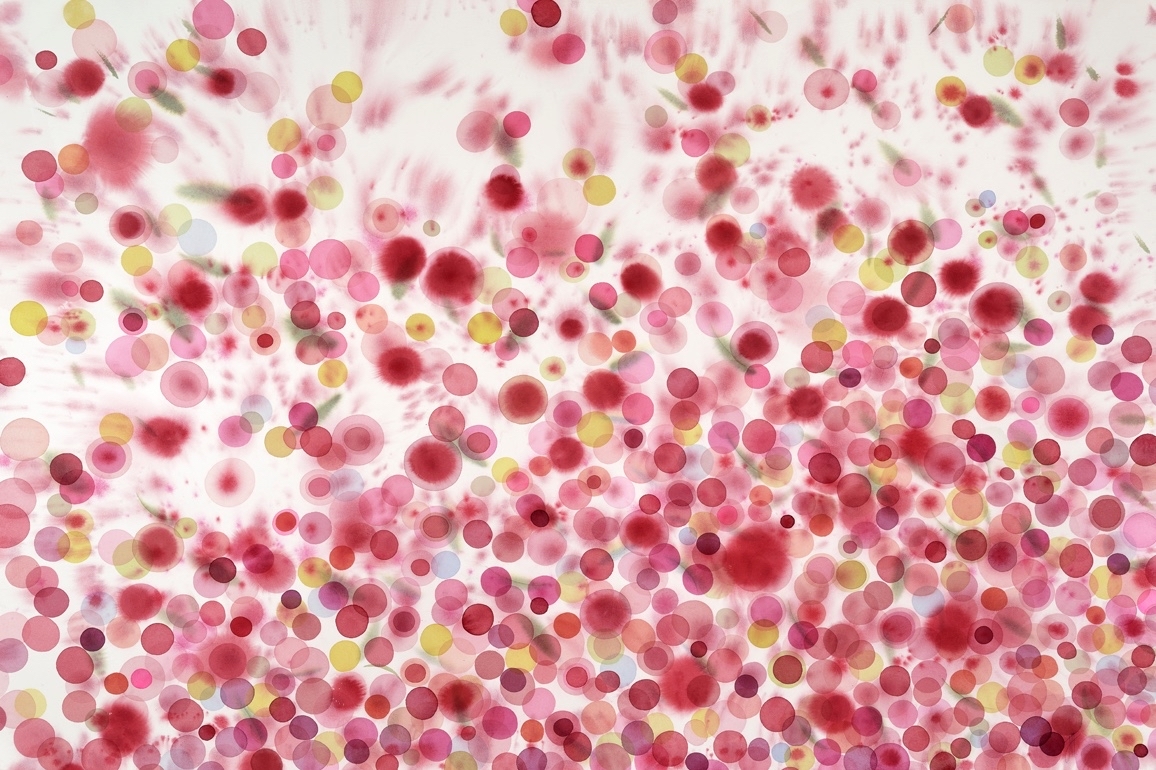 Pink - 60" x 40" - Watercolor on paper


Big Pink Blanket of Love
Work by Jan Heaton & Friends
Opening reception: Saturday, September 14th | 7-9 pm
September 14 – October 12
Davis Gallery & Framing
837 W. 12th Street
Austin, TX78701
Hours: Mon-Fri 10am-6pm | Sat 10am-4pm
512-477-4929
In partnership with the Peabody Fund and Dell Children's Medical Center, Davis Gallery is honored to announce a unique group show in support of Davis' own Jan Heaton, one of Austin's premier watercolorists. In February of 2019 Jan's daughter, Kristin Peabody, was taken by an aggressive cancer she had battled for ten years. In place of the solo exhibition that was scheduled for Jan, Davis Gallery and Austin's artistic community are banding together in solidarity to fight cancer and find strength. Over sixty artists have contributed 4x4 inch squares of their own original artwork in an overall pink palette that will be hand-stitched together to create a pink quilt, symbolizing the community's compassion, strength, and friendship. The idea for the pink quilt is derived directly from Kristin's feeling that the love she had been shown over the course of her treatments felt like a "big, warm, pink blanket of love". In addition to this collaborative quilt, an extended group show focused on love, gratitude, and family will feature original artwork by Jan Heaton and over twenty other artists.
Ten percent of the proceeds raised during this four weeklong exhibit will be donated to the Peabody Fund, a project set up in direct response to Kristin Peabody's ambition to help develop innovative work in cancer research through the San Diego Center for Personalized Immunotherapy. The "big pink blanket of love" collaborative quilt will be donated to the Dell Children's Medical Center's fundraiser, "The Art of Giving", an annual fundraiser dedicated to providing art and music therapy for thousands of young cancer patients.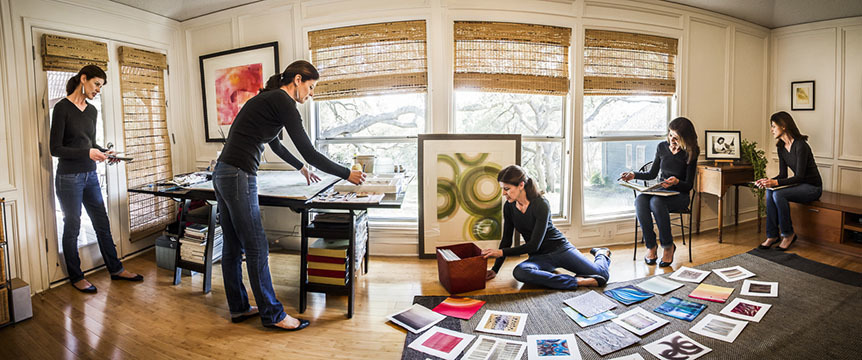 Panorama of Jan from 2013 when we met.


Artist statment courtesy of Jan's website
My paintings are personal observations of color, movement, relationships and forms in nature. I prefer the watercolor medium, as I love paper, and the tactile manner in which the pigment integrates with the paper. Painting on cold pressed 100% cotton paper I patiently build translucent, veiled layers of color, allowing the forms and values to evolve in a detailed and orchestrated manner. I normally work in a series, which permits the wet color to dry thoroughly between layers. The images are not restricted by the paper's edges. Every random mark is there because it needs to be there. The reputed "happy mistakes" (that watercolor legend reports often occur in this medium) are planned and controlled.
The circular orbs in my current work are simple, bold, direct, sensual, playful and often mysterious. The sphere recalls harmony, rhythm, movement, patterns, and boundless symbolic metaphors. In my work the circle exists independently and in groups, referencing water patterns on a shore, or a rising moon, rounded fruits, or the shape of a flower. The circle reminds me of family and friends, who are very important to my creative process. The times spent in a circle, talking, eating, dancing, playing, telling stories and solving the problems of everyday life. The memories of this connection to the circle are important to me.
My intention is not to impose a specific message to the viewer. I often hesitate to title my paintings, for fear that they will be translated only according to my vision and close a door to the viewer's interpretations. I hope my paintings will allow the viewer to observe a familiar object in a new way.





Panorama with Jan at Boggy creek farmstand in 2014.


Some of the subjects we discuss:
How we met
Panorama project
Farmers market series
Ideas & editing inspiration
Mary Oliver poetry
Detroit childhood
Jan's parents
Artistic family
Calligraphy
Thank you notes
Various jobs
Deadlines
Painting/website
Losing job/new path
Approaching galleries
Jace Graf portfolio
Wally Workman
Gallery representation
Hiatus Spa/calming work
Morning walk/looking
Boundaries/introversion
Validation/feedback
Discipline/schedule
The Art of Giving
Elizabeth Hendley
Art Therapy
Being a teacher
What is watercolor?
Opportunities/learning
Advertising experience
Business of art
Kristin's story
The Peabody Fund
Davis Gallery exhibition
Personalized cancer vaccine
This interview
2nd/3rd opinions
Medical advocacy
Supportive friends & family
What's different
Gratitude


This interview has been edited and condensed for clarity.
Intro music generously provided by Stan Killian