GD Wright - Impossible Until It's Done
Episode 66
·
July 28th, 2019
·
1 hr 11 mins
"I just think that we have a greater strength en masse. The more we can come together and support each other the greater our potential. Don't build walls. Don't tell people they cant do it. Show up for the people you think that you can, and you have the strength to."


GD Wright is a sculptor, fabricator, and design consultant working most often with metal, cast concrete, and blown glass. He also consults with other artists to help them realize their own visions and has collaborated on and managed many monumental scale artworks and constructions. After growing up and attending college in the midwest he then made a career and a name for himself in Oakland, CA. Recently he relocated to Austin to start his career anew and be closer to his young son. His personal work is often a reflection of himself and his desire to confront what might be holding him back and to dismantle the cages we all create for ourselves.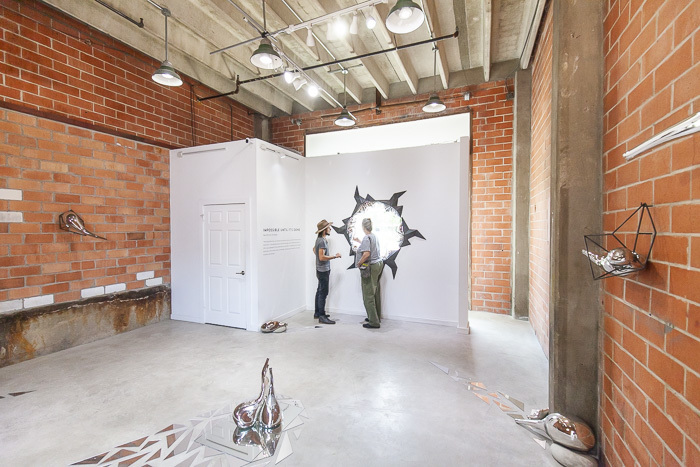 "GD Wright: Impossible Until It's Done"
Through Aug. 18
Dimension Gallery
www.dimensiongallery.org
979 Springdale Rd
Austin, TX, 78702
512-479-9941
open Thursday through Saturday from 12pm to 6pm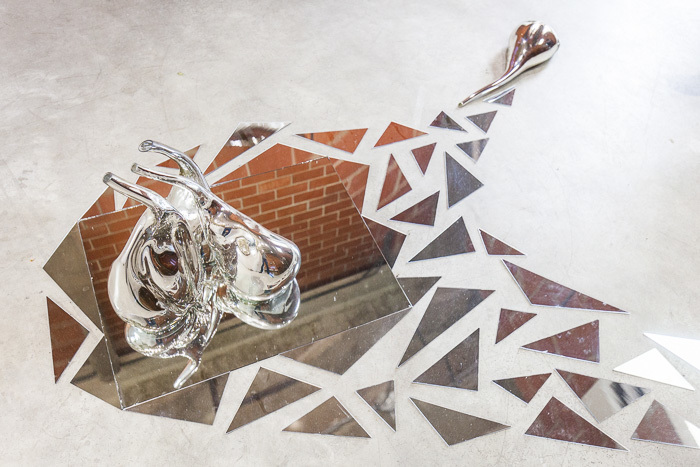 Artist Statement​ for Dimension Gallery Fellowship
My sculptural work is driven by the goal to arouse a deep visceral response in the viewer. I work to achieve this by creating a heightened tension in the interaction of two systems, defined as rigid and fluid. Steel structures, once assembled into a specific form, are fixed and unchanging. The fluid systems they contain introduce a temporal element in which there is no longer a definite object, but a shifting one. The use of a steel mold elicits the feeling of an unchanging model, yet the bulbous forms interact with this foundation in abstract, organic, and often unexpected ways. I draw inspiration from larger systems found in nature and society, which represent the push and pull of containment and expansion, strength and fragility, and change and inertia. This interplay creates a push and pull that is dynamic, as perception of the work becomes reliant on the individuals own deep emotive response as they perceive it.
I began this body of work by capturing air, water, and soft pliable materials within my rigid structures to really focus in on the change and enertia that couldn't be stopped in their interaction. This created a movement in the work I really loved. As sculptures would melt from within, deflate, or slowly wither away, I found the audience would interact with them in interesting and dynamic ways. The work was never static. During the next phase of this work's evolution I transitioned into glass as my mode of movement in the hopes that the pieces would represent a more fixed object and potentially increase their ability to be collected. During this next phase within my studies I aim to employ my more developed skill set and experience with creating high end craft to realize them in a new and even more dynamic way. I plan to use materials such as castable resins, fiberglass, and maybe even concrete, to increase the scale of these works as I work my way to the monumental. I have done the experiments, now I need the funding to make them big. I would like to produce three to five, 6'-12' works this year, as well as an installation built from the culmination of several smaller pieces that could wrap and move around the gallery space.


Some of the subjects we discuss:
Introduction
Bubble cage guy
Complex craft
Fitting into shapes
Cages/mirrors
Upbringing
College/art classes
Punishment/repairs
Object vs Craft
Deadlines
Working with water
Beginnings in Oakland
Working with glass
Desire to teach
Anything is possible
People around you
Projects/business partner
Bus conversion
Greater impact
Facebook
Move to Austin
Ghost ship fire
Austin so far
CI grant/HS students
Art collectors
Cultural arts division
Diversifying income
Helping artists
Being a dad
Burning man
The temple and loss
Sacrificing for others
Dimension gallery
Message to artists


This interview has been edited and condensed for clarity.
Intro music generously provided by Stan Killian