Brinston
Episode 65
·
July 22nd, 2019
·
1 hr 2 mins
"I'm not solely an artist, that's not my identity. I'm not just an artist, I'm a vessel. You are not defined by your occupation. You are not defined by the person that you spend your life with. You're a creation that's meant for more than just being an accountant, or a photographer, or a painter, or a carpenter. You're meant for much more than just that. You are meant to use that as a place to help people."


Dallas based artist Matthew Brinston categorizes his very distinctive painting style as something like descriptive realism that leans toward the abstract. The characters in his works come confidently right out of his imagination with each decisive brush stroke and seem especially unique and attractive in an odd way. Over the last 6 years since he was involved in an almost fatal motorcycle accident that changed his life, he has been painting in earnest and feels that his purpose is to create art to make the world a better place and to help others, primarily directed by his faith in God. Be sure to check out the work and also his very distinctive self branding, social media approach, and marketing style that as he states in the interview is aimed at getting people to take a pause.


About text courtesty of brinston.co
When death leads to life, art is inevitable. And art, as creation, is a reflection of its creator. Brinston and his work consistently grapple with the revolution of death and life and death again. The cacophonous symphony of color and shape, rhythm and structure that compose his work is all at once chaotic and calm. Just as the artist himself is an amalgam of mania and peace. The composition of art and artist is indistinguishable… just as his art is an extension of himself, the artist has become an extension of his art. For the artist, art is valuable in its making life worth living. Art has given him purpose and meaning, the people he loves, the places he's been, literal survival, a future. Art is everything. And now with everything, the artist seeks to share this existential gift through collaboration and demonstration. Impact the world through connection. Inform himself and those around him through interaction. Art is the universal teacher. And the artist's goal is to help people find little bits of themselves through personal synergy with the art. The artist's path from life to death and back to life again has not been without pain. But the vision of Christ plus the inevitable clarity of death have afforded him balance amidst chaos and a wealth of generosity through selfless invention. The artist creates not for glory, fame or control… but because he is an artist. And an artist creates.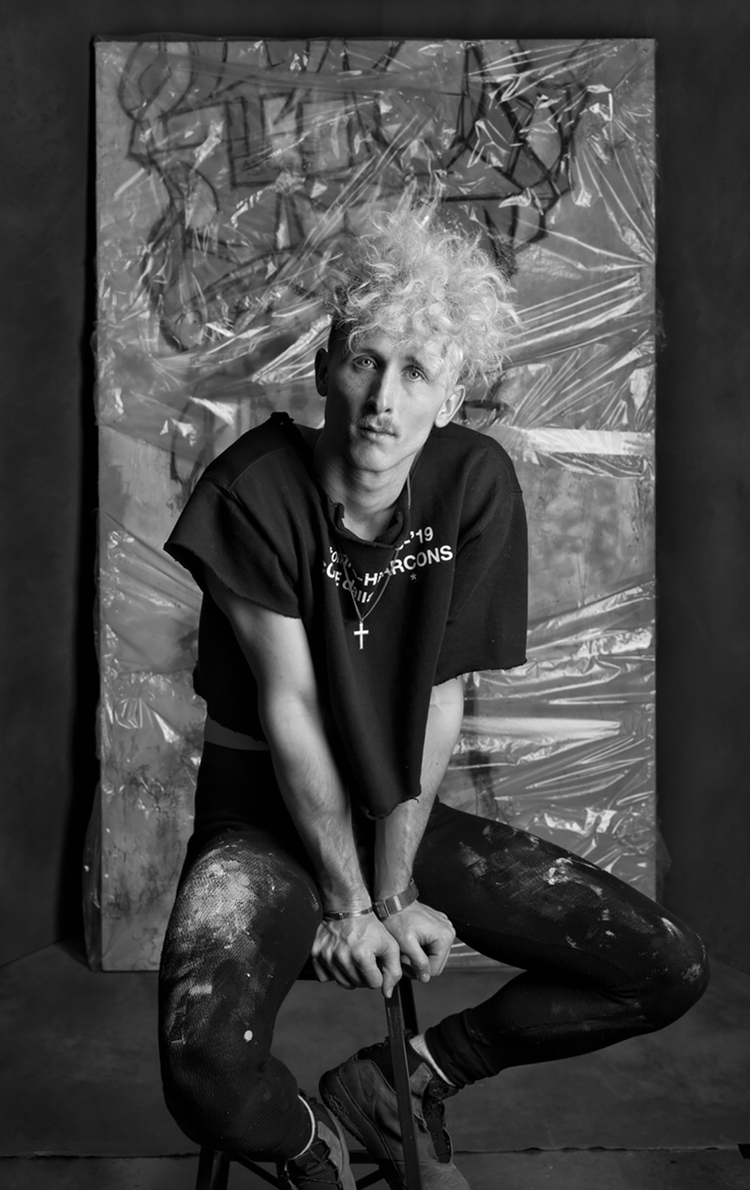 Photo courtesy of brinston.co. Photographer unknown.


Some of the subjects we discuss:
Introduction
Art growing up
Early music career
Motorcycle accident
Miracle survival
Meeting Christ
Recovery/painting
Finishing school
First works
Self inspiration
Studio art/marketing
Emotions in the work
Getting to know the self
France residency
Daily routine
Studio practice
The blank canvas
Confidence
Daily prayers
Vulnerability/wisdom
Momentum
Identity/purpose
Daily clarity/adventure
Gratitude
Marriage/growing love
The world you create
Preacher paintings
Brinston brand
Pause/perception
Art vending machine
Leaving art in city
Creating urgency
Dallas community
Sense of career
Success & money
Nurturing relationships
Protecting yourself
Mentorship
Christ's presence
Cheat code
Listening to your path


This interview has been edited and condensed for clarity.
Intro music generously provided by Stan Killian