Taja Lindley - There's Work To Be Done
Episode 63
·
May 25th, 2019
·
1 hr 17 mins
"I think more and more now people are interested in this conversation of the intersection of art and culture with social movements. Art & culture have always been a part of social movements, but being strategic with artists inside of campaigns and things that we are trying to move forward, there's a really rich conversation that's happening now. It's just really exciting to be in a place where I can be both-and. Because it has felt separate. There is something about being in tune with your imagination and creativity that allows for some creative thinking that can support what it is that we all want to move forward which is a more equitable world for us all."


This Ain't A Eulogy: A Ritual for Re-Membering from Taja Lindley on Vimeo.


Bio courtesy of Taja's website
An 80's baby born in New York and raised in the South, Taja Lindley currently lives in Brooklyn, New York working as the Managing Member of Colored Girls Hustle. In 2007 she received her B.A. from New York University's Gallatin School of Individualized Study where she designed her own major, concentrating in public policy and knowledge production with a focus on health and women of color.
Lindley is a memory worker, healer and an activist. Through iterative and interdisciplinary practices, she creates socially engaged artwork that reflects and transforms audiences, shifts culture and moves people to action. She uses movement, text, installation, ritual, burlesque, and multi-media to create immersive works that are concerned with freedom, healing and pleasure. She is currently developing a body of work recycling and repurposing discarded materials.
Her artwork has been featured at Spring/Break Art Show, Brooklyn Museum, Hammer Museum, Philbrook Museum, New York Live Arts, the American Repertory Theater at Harvard University, Brooklyn Arts Exchange (BAX), the Gallatin Arts Festival at New York University, WOW Café Theater, La Mama Theater, in living rooms, classrooms, conferences and public spaces. She has received coverage in the New York Times, VICE, ELLE, Blouin Art Info, Art Zealous and Artnet News, and ARTSY. In 2014 she was a Create Change Fellow with the Laundromat Project and selected to participate in EMERGENYC - an artist activist program of New York University's Hemispheric Institute of Performance and Politics. In 2015 she was a Fall space grantee at BAX. Her 2017 residency at Dixon Place Theater culminated in the world premiere of her one-woman show "The Bag Lady Manifesta" in September 2017. This work is currently on a nationwide tour in the United States.
In addition to being an artist, Lindley is actively engaged in social movements as a writer, consultant, and facilitator. For over a decade she has worked with non-profits, research institutes and government on policies and programming that impact women and girls, communities of color, low/no/fixed-income families, queer people, youth and immigrants. Most recently, she served as a Sexual and Reproductive Justice Consultant at the NYC Department of Health and Mental Hygiene, facilitating a community driven process that created The NYC Standards for Respectful Care at Birth. She continues her work at the NYC Health Department as the current Public Artist in Residence, a program of the NYC Department of Cultural Affairs.
Her writing has appeared in Rewire, YES! Magazine, Feministe, Salon and EBONY. She is a member of Harriet's Apothecary and Echoing Ida.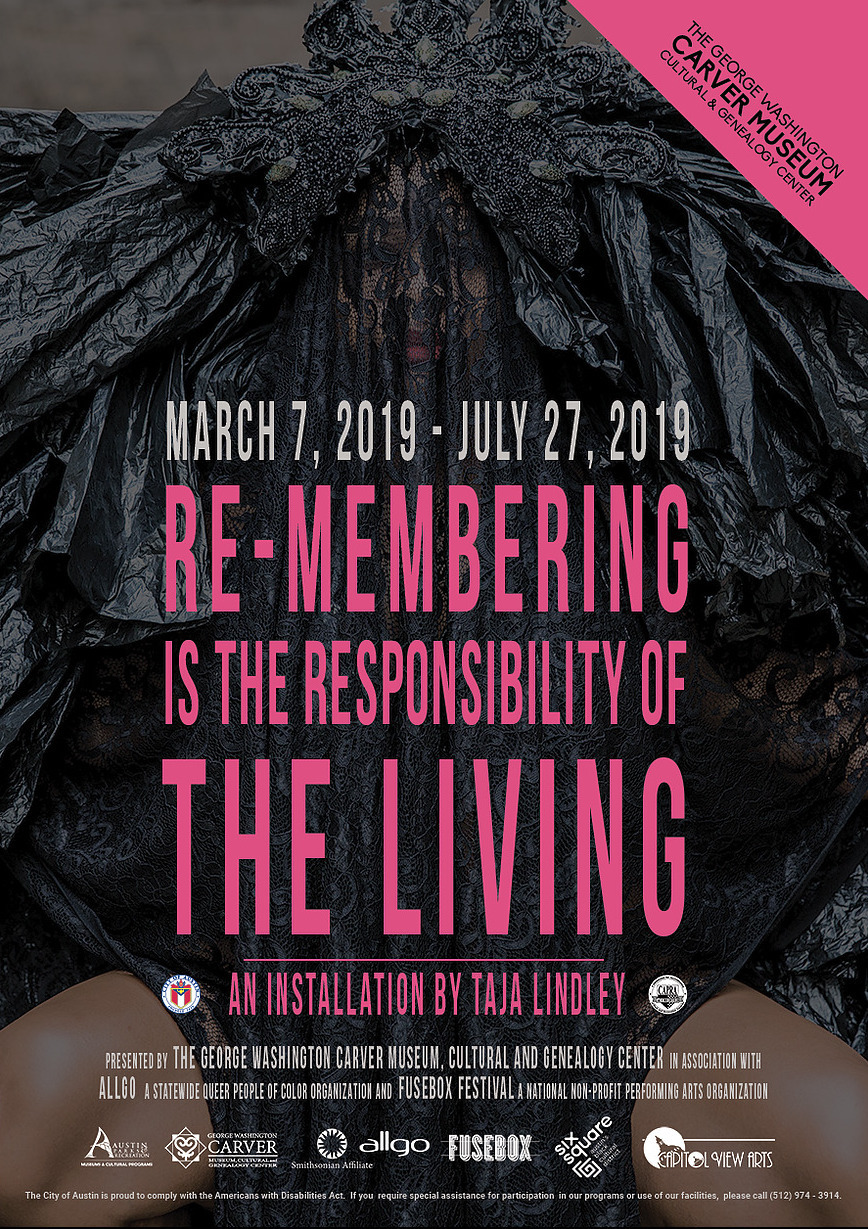 Re-Membering is the Responsibility of the Living: An Installation by Taja Lindley
Closes Saturday July 27th, 2019
George Washington Carver Museum, Cultural and Genealogy Center
1165 Angelina Street
Austin, TX 78702
Open Hours:
Monday-Wednesday 10am -6pm; Thursday 10am-9pm
Friday-10am-6pm; Saturday 10am-4pm
Sunday-Closed.
The Carver Museum & Cultural Center will present the work of New York-based, multi-disciplinary visual and performing artist Taja Lindley. Her mixed media installation, "Re-Membering is the Responsibility of the Living," will be on view from March 7, 2019, to July 31, 2019. Moved by the non-indictments of the police officers responsible for the deaths of Eric Garner and Michael Brown, Lindley draws parallels between discarded refuse and the violent treatment of Black people in the United States. The artist uses re-purposed trash bags to re-member, honor and value the Black lives that have been lost due to state-sanctioned violence. In this post-Ferguson moment, Lindley is imagining how to recycle the energy of protest, rage, and grief into creating a world where, indeed, Black Lives Matter.
Image and text courtesy of The Carver Museum


This interview has been edited and condensed for clarity.
Intro music generously provided by Stan Killian