Brooke Axtell - Beautiful Justice
Episode 60
·
April 2nd, 2019
·
1 hr 18 mins
"I feel that my capacity to create, in so many different forms of media, to step into my work as an activist, to speak in a very vulnerable way in the types of spaces I've been invited into, really began with writing about and sharing my deepest shame. And once I had finally illuminated that, and I had brought everything into the light, the things I was the most ashamed of, the things that caused me the greatest pain in my life, I was then able to speak and to explore my creativity in ways that I never had before because I didn't feel there was anything I had to hide anymore. I think a lot of the fears that artists have, and many of the artists I have mentored over time, they tend to fixate on fears about the work, what work to create and how it's going to be received. But I think really all those fears are a manifestation of shame. Because we don't trust ourselves, and we don't trust that we are enough, and that our truth is worth sharing. I think the remedy for that is healing relationships. Being in communities and in relationships with people that can finally reflect back to us, all of you is welcome here. And that if there is a truth you need to tell it will be heard, because you deserve to be heard."


Bio courtesy of Brooke's website
Brooke Axtell is the Founder and Director of She is Rising, a healing community for women and girls overcoming rape, abuse and sex-trafficking. Through her mentorship programs, retreats and workshops, Brooke helps survivors become leaders. She is passionate about inspiring young women to reclaim their worth and express their power to create a more compassionate world.
Her work as a human rights activist led her to speak at The 2015 Grammy Awards, The United Nations and the U.S. Institute for Peace. She is a member of the Speaker's Bureau for Rape, Abuse, Incest, National Network (R.A.I.N.N.), the largest anti-sexual assault organization in the U.S., and an Advisor for Freedom United, global initiative to end human trafficking.
Her work as a writer, speaker, performing artist and activist has been featured in many media outlets, including the New York Times, LA Times, Rolling Stone, Time Magazine, Wall Street Journal and CNN. Brooke has published several award-winning poetry books and released three CDs of original music to critical acclaim.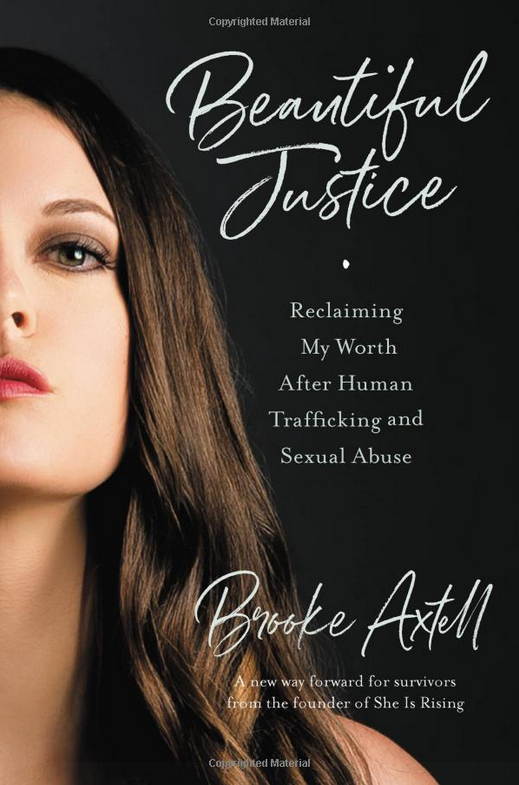 From Amazon
Beautiful Justice: Reclaiming My Worth After Human Trafficking and Sexual Abuse Paperback – April 2, 2019
A story of healing and a guide to seeking justice after sexual abuse from Brooke Axtell, one of the foremost survivor experts on sexual assault, domestic violence, and human trafficking
When Brooke Axtell was seven years old, her nanny subjected her to sex trafficking. Today, she is a champion and advocate for women around the world who have experienced sexual violence and trauma.
Beautiful Justice shares Brooke's own gripping story, both the trauma of sex trafficking and also her pathway through healing, moving on, and reclaiming power. Along the way, she imparts warm wisdom for others who have experienced similar violence, providing lessons from her own life and from the thousands of women, advocates, and lawmakers she's spoken with. Relying on her own experiences and a keen awareness of public policy, she provides a clear-eyed awareness of the ways that our culture and government work against women experiencing violence around the world.
Inspiring and powerfully redemptive, Brooke encourages readers to take part in a creative resistance as a path to justice.


This interview has been edited and condensed for clarity.
Intro music generously provided by Stan Killian