Elizabeth Chapin - Deconstructing Nostalgia
Episode 59
·
March 20th, 2019
·
1 hr 5 mins
"I was aware of the culture I grew up in, but I was unaware of the cost for other people, and also unaware of the cost for me. I think when you are raised in a culture like that you have definitions for yourself that feel very comfortable and safe and you're not even really aware of that. And so you start thinking, why am I telling myself these things? Why is that true? Why does that have to be true? It started seeming like an impoverished narrative. Or like a small narrative that I wanted to step outside of. I feel like every time I step outside of a story I'm telling about myself I see another story. It just feels like that right now, and I'm trying to keep honoring that. So this show is really about that girl, me, and the woman I am, and trying to step into that and keep stepping into it."


Elizabeth's artist statement about "Deconstructing Nostalgia"
This work began with my exploring the reluctance among women in the deep South to perceive patriarchal and racial structures. I remember myself as a little girl in Mississippi covered head to toe in lace, anticipating being fussed over, wanting to be the object. It sets up an early feeling of being doll-like and not owning one's body. And it sets up a very pleasurable, safe existence that rewards not questioning the system. I am interested in the way I have maintained my investment in this system—partly out of the privilege of not having to be aware of it and partly out of a conflictual relationship to beauty--beauty as emotional safety.
I started thinking about lace as a metaphor for this experience, the obfuscation of ugliness--a representation of the gentility and graciousness of the South made possible largely by a history of graceless and dark systems. This obfuscation is highly effective in maintaining the status quo of both the oppressed and the idealized.
This work is also about the portrait and my identification as a figurative painter from the South, an identity I find both rewarding and problematic. The Southern portrait is often a signifier, a status symbol, a decorative object, or a kind of pre-Instagram posting.
I am using neon (unraveling and lit) and plexiglass (crystallized and glowing) as "lace"--neither bonnet nor halo, but playing with both. I made large ruffled "pillow" paintings and stuffed figures--fringed or in altar-like configurations with mirrored plexiglass and glitter clouds, re-interpreting the "trophy" room, woman as trophy, a type of padded cell of Southern culture, church altar.
I am attempting to have a conversation with this girl I was and am, partly a confession, partly a blessing. I am also trying to expand the portrait beyond the confines of ego and decorative object, challenging the culture of gentility and nostalgia which is rooted in and particular to the South, but whose questions of privilege and beauty as both safety and entrapment are universal.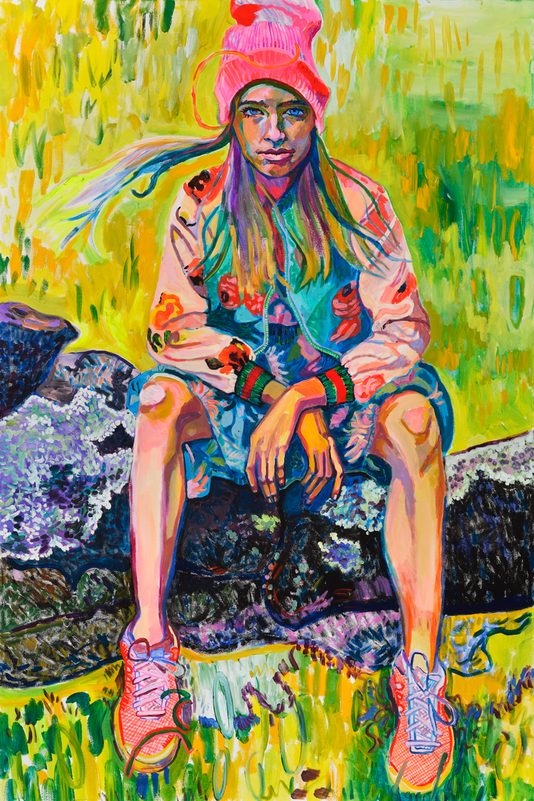 Still Explosions
acrylic on canvas, 72 x 48 inches, 2018


Current/recent exhibitions
Elizabeth Chapin: Deconstructing Nostalgia
March 2-31, 2019
Wally Workman Gallery
1202 West 6th Street
Austin, Texas 78703
512.472.7428
Open Tuesday - Saturday, 10am to 5pm. Sunday 12pm to 4pm.
Chapin's large scale works reference her Southern upbringing and the conflicted nostalgia surrounding the gentility and graciousness of the South. Chapin views much of this culture as made possible largely by graceless and dark systems. This obfuscation of ugliness and the worship of appearance is the theme that runs throughout her new body of work. Using the idea of lace as a metaphor for this experience and referencing historical religious painting, she explores beauty as safety for both the oppressed and the worshiped and idealized. Halos of fabric, acrylic and neon surround Chapin's paintings. Some of the pieces are stuffed like giant decorative pillows, epitomizing the comfort of beauty as well as referencing the trophy room. With these works, Chapin has exposed Southern portraiture as a pre-Instagram status symbol and examines the pleasure and willful ignorance derived within it.


Some of the subjects we discuss:
Podcast origin
Dana Schutz
What to say
Lace/the south
Adoration/cage
Racism/systems
Portraits
Living into it hard
Emotional journalist
Use of color
Restricted pallet
Watercolor
College
Being awake
Self definitions
Creating the new work
Ultralight beam
Boys/Henry
Kanye/worship
Understanding men
Women/consent
Other works in show
Bonnets/young women
Portrait of Henry
Alabel/modeling
Tablecloth & cake
Sam is everything
Privilege/permission
Daily struggle
Focus/discipline
Taking yourself seriously
Our one opportunity
What's next


This interview has been edited and condensed for clarity.
Intro music generously provided by Stan Killian