Julie Speed - Moments Of Clarity
Episode 61
·
April 13th, 2019
·
1 hr 35 secs
"If I close it off then it's not right. If you look at it and there's only one answer, then it's not right. So when I was talking about my older work, maybe it's not technically good, but it brings up a question that everybody would give a different answer to. And not just other people. Quite often I'll go back and see something I haven't seen in a while and it will set off a whole new chain of thoughts."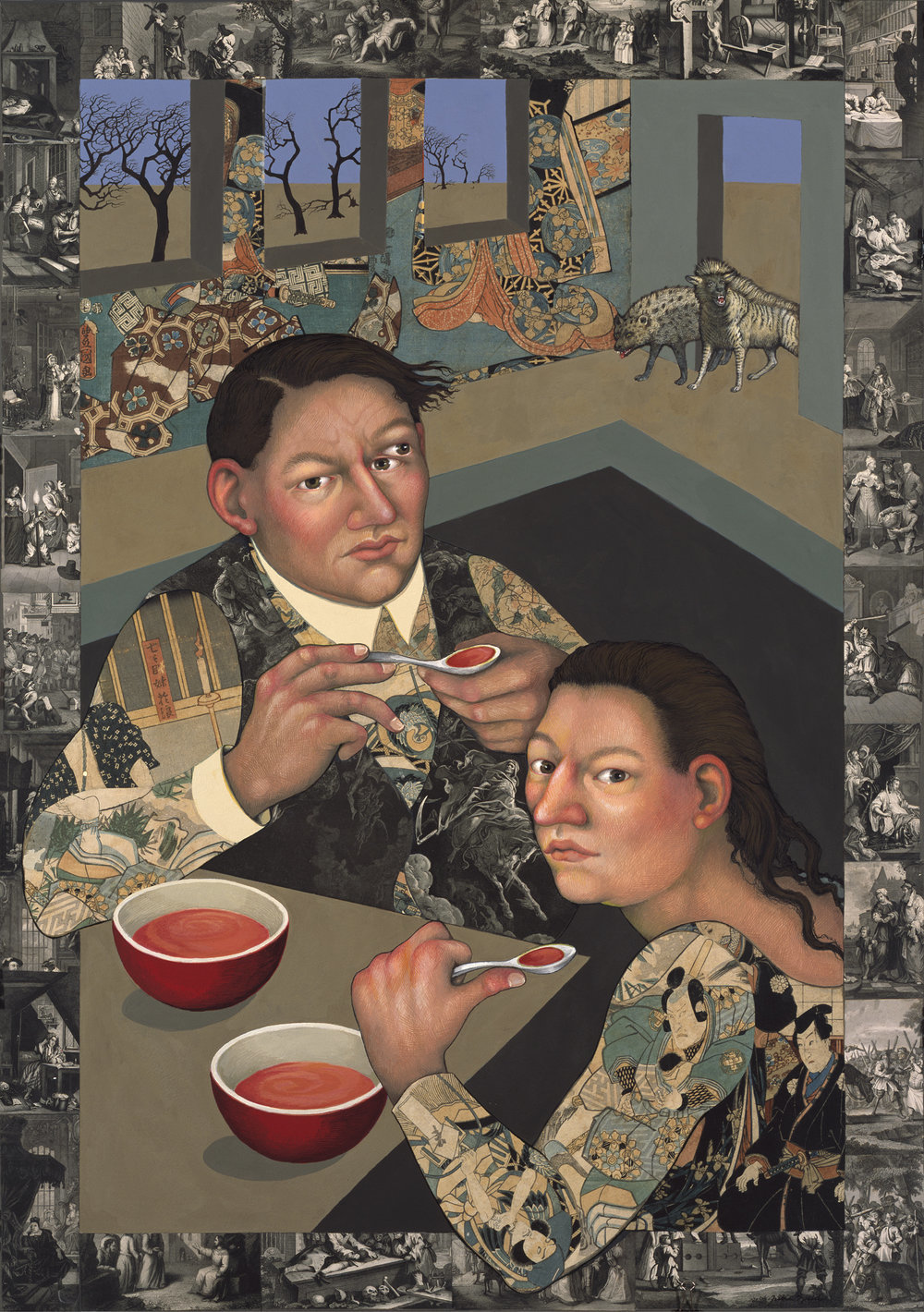 Eating Warhol's Lunch 2016 gouache & collage, 41 x 29 inches


Upcoming Exhibitions
Julie Speed: East of the Sun and West of the Moon
Taubman Museum of Art - Roanoke, VA
Saturday, August 31, 2019 - Sunday, March 15, 2020
Touring from the El Paso Museum of Art, Julie Speed: East of the Sun and West of the Moon explores the rich artistic production of Marfa, Texas, artist Julie Speed from the past five years, including many recent works previously unseen. Speed's last museum show before East of the Sun and West of the Moon occurred in 2014 and was limited to works on paper.
Featuring twenty-nine works, the Taubman Museum of Art's presentation of Julie Speed: East of the Sun and West of the Moon consists of diverse works in the artist's favorite media of oil, gouache, collage, and combinations thereof. Resident in Texas since 1978 and in Marfa since 2006, the artist forged her own path early on by ending her studies at the Rhode Island School of Design and devoting herself to imaginative figuration coupled with consummate technique. Sometimes described as neo-surrealist, Speed's art holds affinity with the figurative Surrealism of René Magritte, yet her work offers scenarios that are simultaneously more personal and more complex than Magritte's visual puns. Her art melds a technical mastery rivaling the Old Masters with motifs created from diverse sources ranging from Renaissance engravings to Japanese woodblock prints. As critic and curator Elizabeth Ferrer has written, "The contemporaneity of her art is rooted in its emphatically open-ended nature."
Some of the themes examined in the exhibition and the accompanying catalog are Speed's mixing of structured and spontaneous processes, her unique bridging of painting and collage, her playful dialogue with artistic tradition, and the intention and power of her art to spark myriad imaginings and narratives. The exhibition includes a "Close-Up Room" consisting of a three-channel video-and-sound installation designed by the artist and highlighting the processes and details of her art.
Julie Speed: East of the Sun and West of the Moon was organized by the El Paso Museum of Art and will be on view August 31, 2019 - March 15, 2020 in the Bank of America/Dominion Resources Gallery.
Text courtesty of Taubman Museum of Art website


Some of the subjects we discuss:
When we met
Marfa/sin faucets
Making things
Pleasing arrangements
Moments of clarity
Cracking herself up/anger
Atoms/amazons
Behind the veil
Focus on painting
Putting in the hours
Older paintings
High standards
Not perfect
Time/gardening
Building a life
Spacial proportions
No compartments
Afterlife/questions
Where socks go?
Specific & open
How to look at art
Painting the Duck
Forming images
Assumptions
Meanings changing
Eating Warhol's lunch
Rules for collages
Color/symbols
Fairy tales/magic fish
No words of wisdom
Closeup room
El Paso exhibition


This interview has been edited and condensed for clarity.
Intro music generously provided by Stan Killian