Stella Alesi - Journeying
Episode 58
·
March 12th, 2019
·
1 hr 17 mins
"When I was eleven I said I was going to be an artist, it's just part of the process. You have to make bad work sometimes, it's part of the deal. If you are not willing to make bad art then you are not willing to take chances. You have to make bad art to get to the good stuff. It's just part of it."


Text courtesy of Stella's website
Stella Alesi has resided in Austin, Texas for the last 25 years. Her work has been exhibited in commercial and university galleries throughout Texas, as well as being purchased for many private collections. Her most recent exhibit took place in November as part of the "Femme Abstract" exhibit in Austin. Currently a full time painter, Stella taught photography at the Austin Community College and ran a successful photography business for over 15 years.
In 2005 she was awarded a Brown Foundation Full Fellowship to attend a residency at the Vermont Studio Center. She and her husband, Leon, founded the in-house gallery BLACKBOX in January of 2012 , and have curated and produced 12 exhibitions of emerging Austin artists. In addition they exhibit and promote their own work during Austin's open studio tours.
Born on Long Island, New York in 1963, she was raised in New Jersey. She began her undergraduate work at Parsons School of Design in New York City, with stints in Paris and Los Angeles, and finished at the University of New Hampshire in Durham. Her graduate work was completed at the University of Massachusetts in Amherst.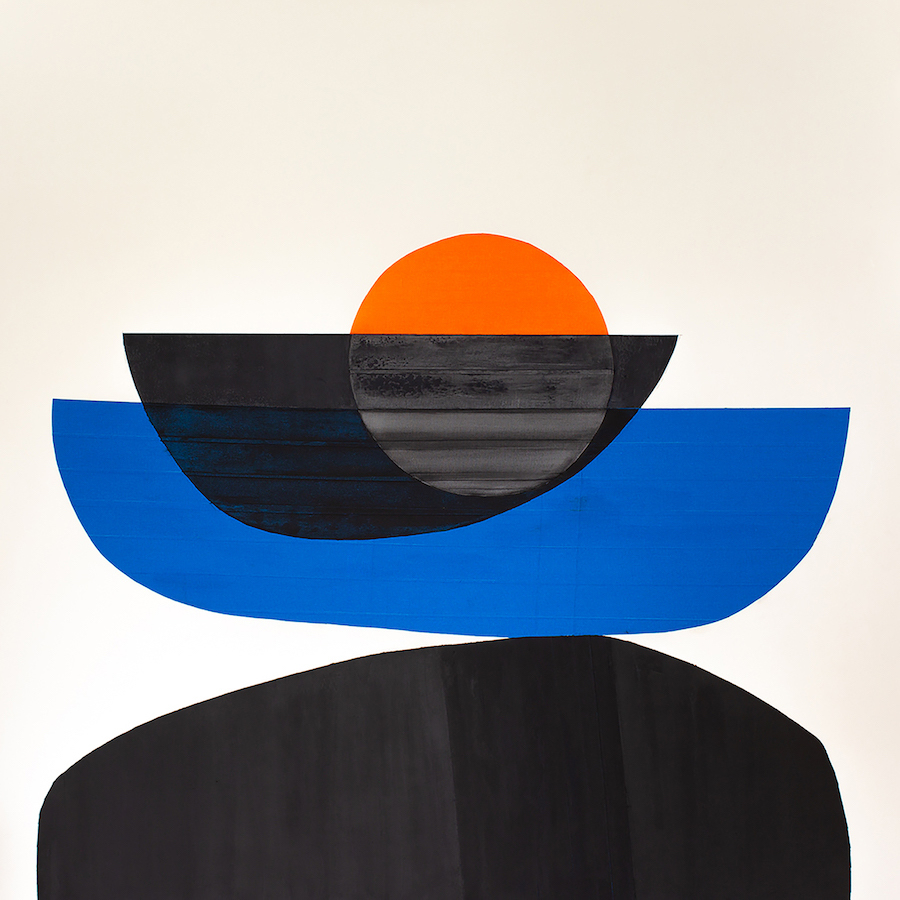 Number 270 from the Journeying series, 48x48 inches, oil, cold wax & bookbinding tape on oil paper mounted to panel, 2019


Prizer Arts & Letters
2023 East Cesar Chavez St., Austin TX 78702 | (512) 575-3559
OPENING RECEPTION: Journeying, featuring new work by stella lj alesi.
FRIDAY, MARCH 15, 7pm to 10pm
Visit the gallery on Saturday, March 23rd from 2-5pm for an afternoon respite. The artist will be present. We can sit and be with the paintings, exchange ideas and talk of art.
Coffee will be served.
Exhibition Dates: March 15th - April 13th
Gallery hours: Saturdays, 12-5pm or by appointment.
email: info@prizerartsandletters.org
Prizer Arts & Letters is pleased to present: Journeying, new works by stella lj alesi. The exhibition will showcase hard edge, minimal abstract paintings that express the need for, and a path towards, balance and interconnectedness. Progressing from Alesi's earlier highly detailed, long hand abstraction, Journeying moves in the direction of simplicity. Simple, monumental, stacked shapes speak quietly of the lived experienced and the constant micro adjustments made continuously as a need for balance and a recognition of interconnectedness is achieved.
Within the lineage of hard edged painting from the late 50's into the early 70's, Alesi's paintings bring a new narrative for a new time. These paintings are in direct opposition to the fast paced and visually overloaded times they were created in. The simple shapes and limited palette require the viewer to bring their own dialogue and experiences to the viewing.
Stella writes, "I find that when living with these paintings that they quietly support; bring joy. They whispers answers to questions. They listen as well as speak. These paintings seep in, and serve as a quiet companion."
Stella Alesi grew up in New York and New Jersey and attended Parsons School of Design, the University of New Hampshire, as well as the University of Massachusetts in Amherst for her MFA. She has lived and exhibited her work continuously for the last 25 years in Austin, Texas.


Some of the subjects we discuss:
The podcast
How we met
Introduction
Growing up/college
Moving around
Starting photography
So many jobs
Grad school
Gender roles
Being consistent
Erotica work
Berry paintings
Shooting weddings
Goal to quit
Mandalas/yoga
Getting into birds
Meditative dots
Working with color
Moving to Austin
Old & today's Austin
Undergrad work
No fear/mistakes
Paying attention
Sketches/studies
What do you see/hear?
Channeling
All about the visual
Balancing act
A happy place
Digging for emptiness
Using oil paper/tape
Narrowing scope
Make bad art
Seeing work clearly
Willing to show
Editing/sharing
Blackbox gallery
Influences
Journeying
Staying calm/respite
Current goals
Rothko quote
Who am I really
Full time artist
Feeling blessed
Learning about yourself
Ceramics
New ideal job
The prime spot
Prizer exhibition
The process
Putting love first
Being a woman


This interview has been edited and condensed for clarity.
Intro music generously provided by Stan Killian