San Marcos Studio Tour by MotherShip Studios
Episode 109
·
March 24th, 2023
·
20 mins 24 secs
A quick interview with Jacqueline Overby & Courtney Peterson of MotherShip Studios, who are spearheading the inaugural San Marcos Studio Tour! We talk about the inspiration for the tour, the many mentors and examples that made it possible, the importance of group artist studio settings, what to expect, all the details, and more.
Text courtesy of SMST website.
MotherShip Studios presents the inaugural San Marcos Studio Tour- anticipated to be the first of many years to come! This free, self-guided tour will feature over fifty artists all across San Marcos, Martindale, and surrounding areas. Artists will be showcasing their studio spaces and artwork during this weekend-long occasion, launching with a kick-off event held at MotherShip Studios, Friday, March 31st. As well, a group exhibition of all participants will be hosted at the MotherShip warehouse gallery featuring one artwork from each artist.
The San Marcos Studio Tour will highlight San Marcos area artists and their studios, while fostering connection and engagement in the arts and local communities. Allowing the public an insider's look into the artistic process creates an exchange between fellow artists, community members, and art collectors. We will showcase the messy workspaces, the paint-splattered floors, the at-home and garage studios, the cluttered art supplies, the inspirational walls of reference photos, and the clay-ridden wheels. We will provide an opportunity for artists to show the raw spaces from which they create. These environments, though sometimes unpolished, are where the magic happens and creativity flourishes.
Mothership Studios will provide a tour map with numbers for each artist and signs to display during the tour weekend. A catalog of the tour participants will be available for purchase at MotherShip Studios. In addition to the map of all tour stops, this catalog will provide details on each artist, including images of work, and short statements about the artists. The kick-off event will feature our group exhibition, a live printing demo, music by local musicians, a raffle give away, and complimentary drinks sponsored by local breweries such as Middleton Brewing, Still Austin Whiskey, Austin Beer Works, and Thirsty Planet.
Please join us for an inspiring and interactive weekend of San Marcos arts and events!
When:
Friday, March 31st at 7:00 PM - 10:00 PM
Kick-off Event at MotherShip Studios/20027 San Marcos Hwy 80, San Marcos, TX, 78666
Saturday, April 1st 12:00 PM - 6:00 PM
Tour Open/Town of San Marcos and Martindale
Sunday, April 2nd at 12:00 PM - 6:00 PM
Tour Open/Towns of San Marcos and Martindale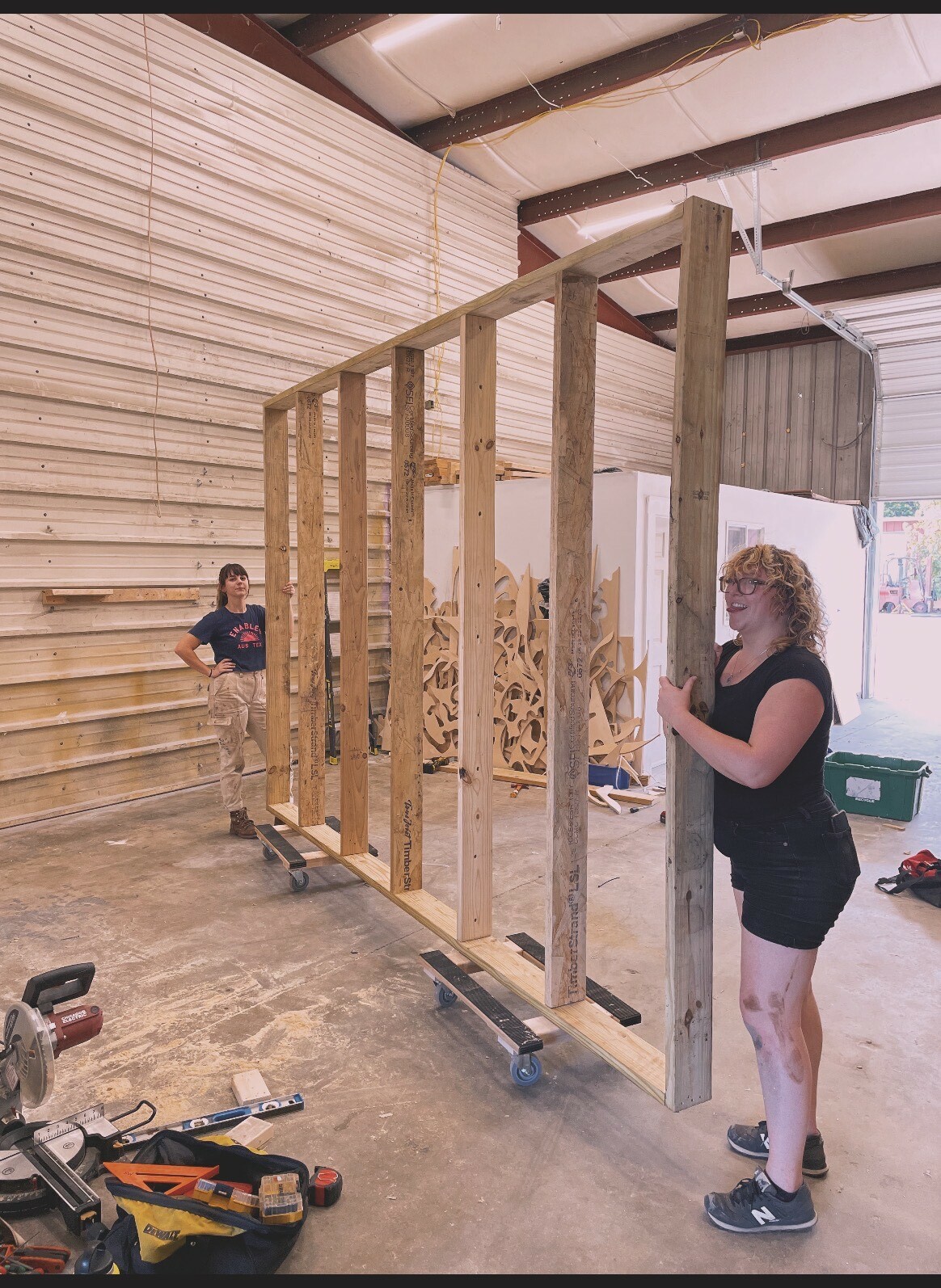 Courtney and Jacqueline hard at work!


This interview has been edited and condensed for clarity.
Intro music generously provided by Stan Killian