Annalise Gratovich
Episode 80
·
January 18th, 2020
·
1 hr 5 mins
"I have a huge interest in empathy and compassion and humanizing people. That's been a big part of my work and my life."


Annalise Gratovich is a Texas printmaker who uses a lot of different tools and a supportive community to create small to sometimes very large prints. She can often be found carving carefully and meditatively out of wood, scribing into metal, or hand dying paper, the goal being to breathe life into the various beings, objects, and plants that inhabit the totemic and endearing world she has created. A world inspired by her family heritage and a desire to engender empathy and wonder. Everything is revealed when the paper is pulled from the intricately crafted and inked matrix. All of the hard work culminates in a print that will live on the walls of art lovers and collectors who appreciate the care and compassion that comes through in her work. She also travels to many other print shops as a guest artist and lecturer, is on the board of directors for Print Austin, and works the Blanton Museum of Art.


Annalise Gratovich – Through the Dusk, a Light
Recspec Gallery
4825 Weidemar Lane #700, Austin, Texas 78745 (map)
(Facebook Event)
Opening Reception Saturday, January 25th – 5-9pm
On view through March 7th and for PrintAustin
Works on paper about the places for which the heart yearns by printmaker and artist Annalise Gratovich.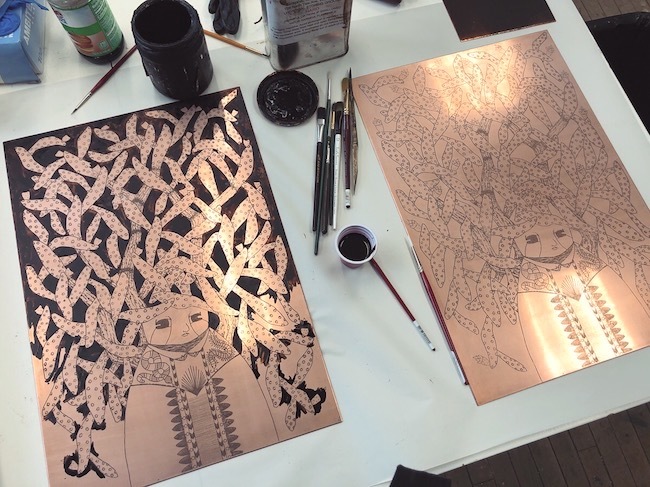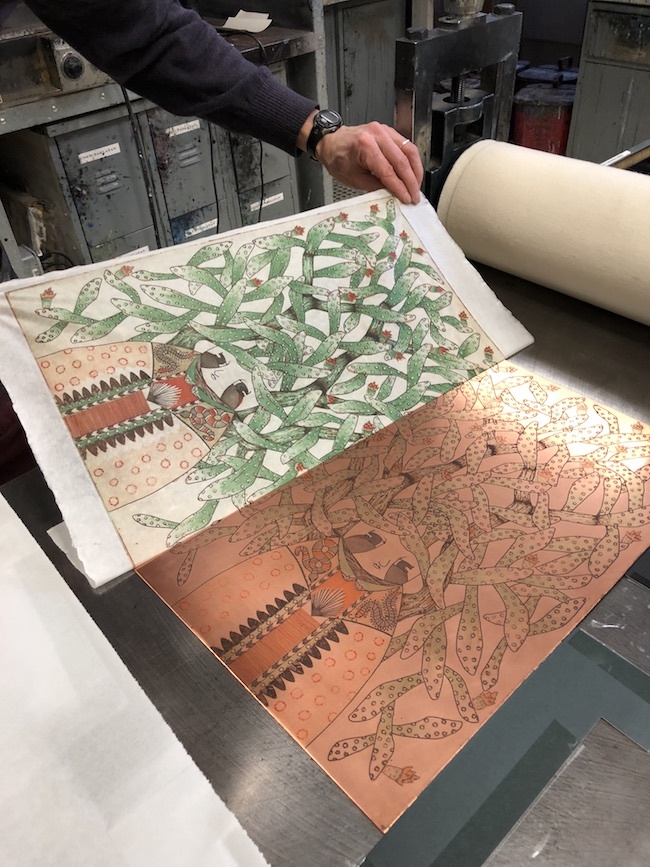 About text courtesy of Annalise's website
Annalise creates her finely crafted prints by hand from start to finish, carving wood, etching metal, dyeing paper, and using manual printing presses to create multiple originals. Each piece is printed on the finest archival papers using oil based inks and hand dyed papers she produces in her studio. Annalise operates as a self publisher out of Austin, Texas and travels frequently across the country as a visiting artist and speaker and to publish prints with highly esteemed print shops.
Annalise begins each of her pieces with a drawing and a love for technical and artistic experimentation. She meticulously carves wood blocks with hand tools or carefully scribes into wax on the surface of a copper plate that is then dipped into an acid bath. Once these matrices are complete, sometimes after months of carving or a dozen dips in the acid bath, she begins her color development. Starting from color swatches she dips and tests in her studio, she dyes in bulk sheets of thin yet strong mulberry paper in a wide variety of colors and patterns. These sheets of dyed paper are then carefully cut out and applied to the wet ink on each woodcut or etching during the printing process, at which time the ink, papers, and pressure all combine to create the prints you see here.
Annalise Gratovich was awarded the title of Creative Ambassador of Visual Arts in 2019 by the City of Austin and exhibits extensively nationally and internationally, most recently in Buggenhagen, Germany, New York, NY, Dawson City, Youkon, San Antonio, TX and Austin, TX. She was most recently a guest artist and lecturer at Egress Press, Edinboro University, Pennsylvania, and a guest artist and juror at New Leaf Editions in Vancouver, B.C. Her most recent publications were produced by Mixed Grit in Denver, Colorado, at Egress Press in Pennsylvania, Evil Prints in St. Louis, Missouri, and Cannonball Press, Brooklyn, New York. She has work in numerous private and public collections, the most recent acquisition going to the Library of Congress Prints and Photographs Division.
She is a member of the Board of Directors of PrintAustin, a month-long, city-wide printmaking event for which she has helped organize exhibitions and special events, curate the PrintAustin Invitational, and has participated in artist and curator talks, and panel discussions.
Annalise's ongoing and largest series to date, Carrying Things From Home, is comprised of eight 3x5.5 foot hand-dyed chine collé woodcuts.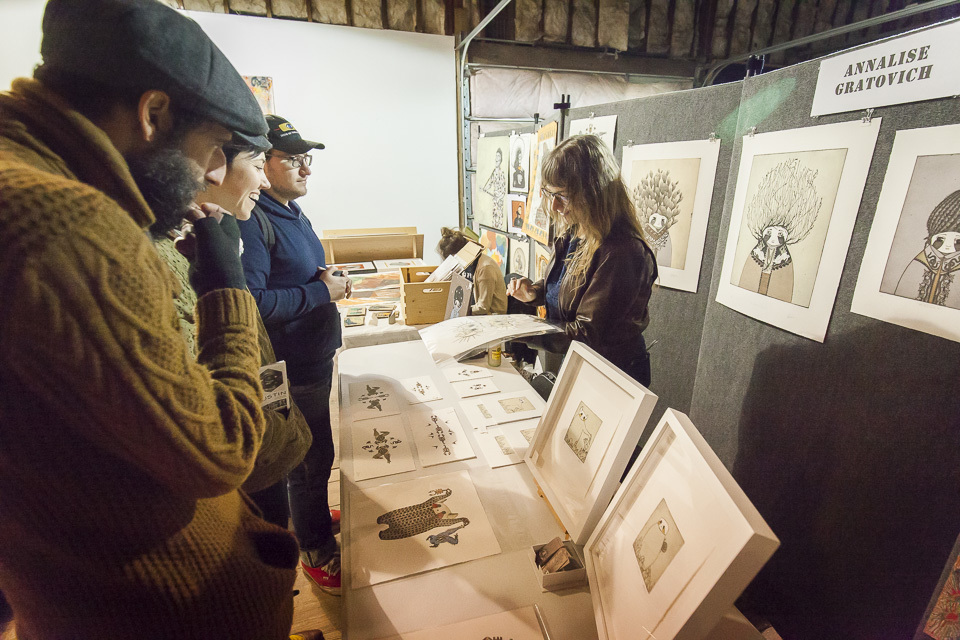 Annalise at the 2018 PrintAustin Expo
January 15th - February 15th, 2020
PrintAustin's mission to the Austin art community and galleries is to share our enthusiasm for printmaking by helping galleries curate, exhibit, and promote works on paper and to engage a wider audience through in-house artist talks, signings, panels, printmaking demonstrations, and print-focused art happenings.
With several professional print shops, nationally recognized university printmaking programs, internationally acclaimed print collections, and a thriving printmaking community, Austin is a hub for printmaking in Texas. The PrintAustin team is working with organizations and individuals throughout the Austin visual arts community to showcase fine art prints during this annual event, January 15-February 15.


This interview has been edited and condensed for clarity.
Intro music generously provided by Stan Killian