Valerie Fowler - Layers of Meaning
Episode 41
·
August 25th, 2018
·
1 hr 7 mins
"For me it only becomes an artwork if it has the potential to have a lot of layers of meaning.
I have my themes that I always want to emphasize and I'm always looking for ways buoy those themes and so I'm on the look out. The aesthetics are never the thing that get me. It's if there is something out there that I see that will speak to what I am already thinking about.
Memory plays a big part when I come back to my studio in what I want to infuse back into my paintings. So I know that it was a beautiful waterfall but its not about just a beautiful waterfall. Its about family, and trust, and memory of that beautiful walk. I'm probably the only one that knows that. But while I'm painting I'm definitely thinking about that and hoping I can infuse that kind of depth into my paintings."


Drawing and painting are a way for Valerie Fowler to be in the moment, to relax, and to get into the flow and journey of her art. She starts with an idea and then reacts to what happens next as the details evolve. It's not just about the aesthetics but about her and the stories, memories, feelings, and themes, that she hopes to infuse into the work in a deep, honest, and meaningful way.
Early on in her career the work was more narrative, portraying dramatic scenes and psychologically charged persons and props, that often were representations of herself. As someone who was very shy it was a way for her to explore and talk about miscommunication and other issues important to her at the time.
With the happiness of starting a family and raising children her work became more botanically inspired, complex, and thematic, based on her garden and the nature surrounding her home. Initially what she captured was more a recording of what she saw in person but then it matured into mostly creating from memory.
With clean and precise edges and colors that pop she continues to create works that are intensely detailed and beautiful with layers of meaning beyond the obvious, but definitely relatable and understandable. The subjects are relevant to her past and present life and also reflect her concern for the state of nature and man's effect on the planet.
Valerie also collaborates with her husband Brian Beattie who is a musician and producer. Together they create storytelling performances that use a "Crankie" to display a long linear scrolled drawing that is accompanied by music. Her current project is based on a historic home in west Austin that is being turned into a museum. See the details below for this most recent project and how to see it in person.


Some of the subjects we discuss:
Her work
Artist parents
Fathers influence
Early work/school
Narrative paintings
Figures and themes
Deer series/story
Nature and death
Raising kids/gardening
Botanical work
Screen paintings
Negotiating safe passage
Working from memory
The agave painting
Layers of meaning
Lake George Waterfall
Teaching/advice
Fine art/commercial
Art at Flower Hill
The Crankie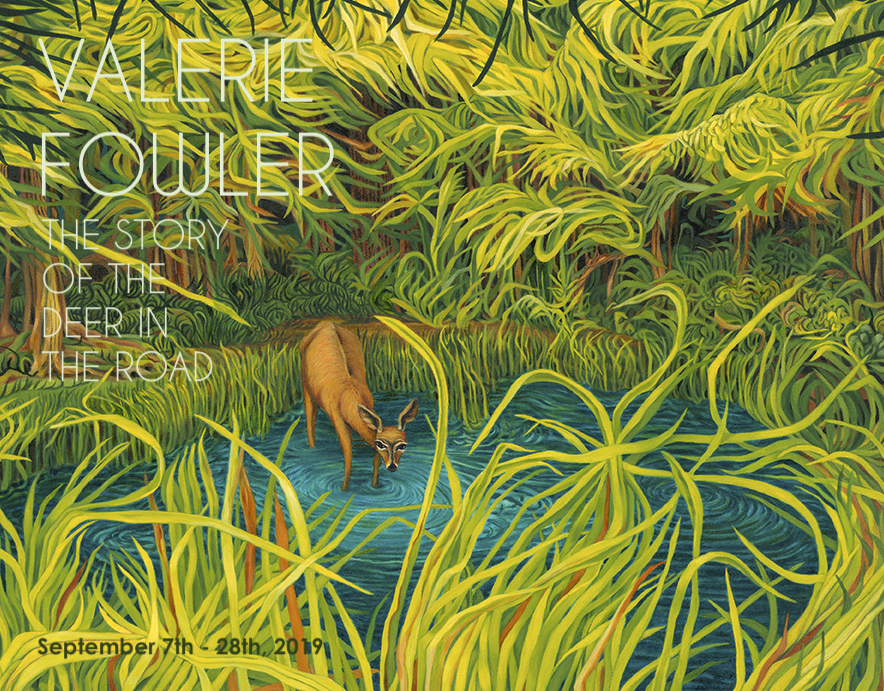 Valerie Fowler: The Story of the Deer in the Road
September 7th - 28th, 2019
Opening Reception
Saturday September 7th, 2019
6:00pm to 9:00pm with the artist in attendance
Facebook event link HERE.
Crankie Performances
In conjunction with the exhibit, Valerie Fowler has created a 30-foot long narrative drawing to be "cranked" on a roll and accompanied by live, original music written and performed by Brian Beattie, her husband and long time collaborator. In addition, writer Robin Chotzinoff will present a reading responding to the artwork in the exhibit. There are three free performances however, space is limited so an RSVP is suggested.
Saturday September 14th, 1:00pm EMAIL RSVP HERE
Saturday, September 21st, 6:00pm EMAIL RSVP HERE
Thursday, September 26th, 6:00pm EMAIL RSVP HERE
Link to all Crankie events on Facebook HERE.
Location
6448 Hwy 290 E., Suite A102, Austin, TX 78723
CAMIBAart Gallery is pleased to present Valerie Fowler and her exhibit "The Story of the Deer in the Road". Viewers familiar with Valerie's artwork will automatically recognize her expressive style, with its bend toward surrealism, and her sense of place, often a romanticized life in Central Texas. Her vision is uniquely personal, yet universal in message. She employs elements from the natural world as allegorical characters to imply storytelling with a mission to inspire contemplation concerning human interaction with our natural world.
The artworks in this exhibit explore Valerie's personal visions of vulnerability and confrontation with death and threats to human existence in general, manifested in the form of a deer. The animal, ubiquitous in Texas and throughout the U.S., transgresses into human habitat such that its presence is a constant reminder to us that its own natural habitat has shrunk and is continuously being altered. This deer, a female, portrayed in various visions or settings, is, in turns, the protagonist in a story not completely revealed, an omen, or an alter ego to the artist.
In her own words:
Through implied narratives I relay my concern and love for our fragile home as I explore the mark we humans make on it. Stories, taken from my own interactions with nature, are integral. Over time I've developed personal touchstones and archetypes sourced from my native Texas environment, which hint at allegories.
About the Artist:
Valerie Fowler is a visual artist, a painter and mixed media artist, and most recently, a visual performer. Her past work includes painting murals for Whole Foods Market in Austin, Chicago and Ann Arbor; illustration and layout work for The Texas Observer; illustrations for CD jackets forlocal musicians, including a fully illustrated, 64 page book that accompanies the CD for "Ivy and the Wicker Suitcase", a musical project written, recorded and produced by her husband, and frequent collaborator, Brian Beattie. The "Ivy" project toured the East and West coasts and she and Beattie produced the full stage production for Austin's Stateside at the Paramount Theater in 2014. Fowler teaches art in her home studio and is also an art instructor at The Contemporary, The Art School at Laguna Gloria. Most recently, the Texas Book Festival chose Fowler as their 2018 Festival artist. Her painting Spring, Everything Changes; Fredericksburg, Texasgraced the festival poster and corresponding campaign materials.
About Robin Chotzinoff:
An all-purpose writer of books, songs, skits and odes-while-U-wait, Robin Chotzinoff has been telling stories from stages around Austin for the past decade. She is the author of People With Dirty Hands and four other published books, as well Project Time: the DIY Musical. She works both as a general contractor, helping clients make their construction dreams concrete, and a ghost-writer-for-hire, specializing in burnishing and tightening narrative voices. A long-time supporter and admirer of Valerie Fowler's art, she is honored and excited to contribute to The Story of the Deer in the Road.
About Brian Beattie:
Brian Beattie, Valerie Fowler's husband and frequent collaborator, is an Austin based musician/songwriter/record producer. He's worked with Bill Callahan, Daniel Johnston, Shearwater, and Okkervil River, among others. He produced K. McCarty's landmark album "Dead Dog's Eyeball- Songs of Daniel Johnston". More information about Brian can be found on his website here.
This project is sponsored in part by the Cultural Arts Division of the City of Austin Economic Development Department and the Center for Women and Their Work.


Here are a few of the paintings mentioned in the interview.


Negotiating Safe Passage | oil on canvas | 36"x36" | 2008





Lake George Waterfall, Dedicated to C. Bruce Beattie | oil on canvas | 43"x37" | 2015


This interview has been edited and condensed for clarity.
Intro music generously provided by Stan Killian